CLIMATE-SMART DAIRY FARMING IN NEPAL
On October the 13th AGCO Agricultural Foundation (AAF) awarded a USD 250,000 grant to Heifer Netherlands (HNL) to improve the sustainability and resilience of smallholder dairy farming families through the development of a climate-smart and productive dairy model in Nepal.
AGCO Corporation is an American leader in agricultural equipment and was initiated by AAF in 2018. This foundation is based in Liechtenstein and has the vision to prevent and relieve hunger through sustainable agricultural development. The duration of the partnership with Heifer is two years and forms an integral part of AAF's strategic sustainability actions and investments in climate action interventions for agriculture.
Early March 2022, HNL engaged with AAF following their Call for Proposals (CfP) on climate action in the context of agriculture. With this program called "Climate Action Campaign", AAF wants to prioritize farmer-focused actions and investments in sustainable agriculture that promote climate-smart solutions allowing farmers to maintain soil fertility, raise healthy livestock, improve their livelihood and sustainably feed the world. Within the span of just one month, HNL teamed up with our Heifer colleagues in Nepal to identify and develop a well-matching project idea and submitted a strong project proposal. Within 6 months – early September – we received the redeeming message: out of hundreds of grant applications, they announced Heifer as the only winner for AAF's "Climate Action Campaign"! A great and rewarding team effort together with the Nepal and Asia team.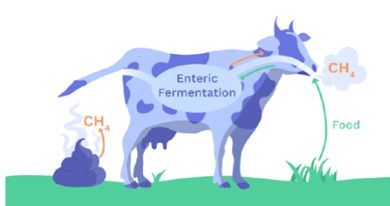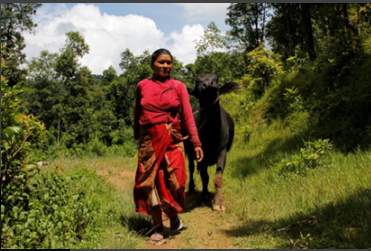 Dairy farming is a vital livelihood source in Nepal, generating employment, income, nutrition and food security. Its emissions, however, contributes to climate change, which in turn backfires on farmers through increased climate shocks.
This project will be implemented by Heifer Project Nepal and aims to reduce Greenhouse Gas (GHG) emissions from dairy farming (cattle and buffalo) by 15% by combining climate-smart and locally adapted solutions in a farmer-focused smallholder model, without undermining the importance of dairy farming to the livelihoods of smallholder farmers.
The project also has several action research angles: estimating balanced feeding using Feeding Support Tool (available on PlayStore) developed by Heifer Nepal, estimation of carbon sequestration in relations to the farmers herd, methane emission measurement (Sulfur hexafluoride Tracer Technique), research on manure management (methane and N2O emissions).
Outputs:
Emission reduction (15%) from buffalo and cattle farming by adapting alternative animal feeding practices and carbon sequestration (5 hectare fodder trees) , whilst increasing productivity(10-15%).

Recycle animal waste as a source of green energy (biogas) and green fertilizer products for local purposes.
All outcomes, such as lessons learned, impact and climate-smart practices will be disseminated among small-scale farmers and other interested parties.
Heifer Project Nepal will do the implementation in partnership with ILRI and Nepal Agricultural Research Council (NARC). The project starts this month and will mainly contribute to SDG 1, 2, and 13.
Read the full press release here. Feel free to share in your network!
For questions, please contact Ingeborg Geluk or call +31-165-520123.